Day 6: For our last full day, I scheduled a dive trip to Turneffe Atoll, which is about an hour boat trip south-east from Caye Caulker. It's the east ridge if the mountain chain that is the Belize barrier reef and cayes, about 10 miles wide and 30 miles long. On it's east side, the continental shelf quickly drops down several thousand meters. On the west side, only several hundred meters. Our dive is on the north-west side of the atoll, the leeward side, so we got very calm seas due to the excellent protection from the winds.
On the ride out, we came upon a pod of dolphins, who happily swam alongside the boat, rode the waves, and leapt out of the water to say hi.
Dad came on this trip too, which was great. The dive shop said there would be snorkeling nearby and even provided Dad a buddy to hang out with. He was a spunky little 19 year old who's training to be a dive master.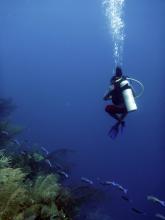 The first dive was the "Little Elbow". On the southernmost tip of Turneffe Atoll, there is another dive site on the southernmost point of Turneffe, called "The Elbow" which is a drift dive, but the boat for that trip left at 6:30am. No thanks. The Little Elbow was awesome. I've never done a wall dive before, and it was spectacular. Just flying alongside the reef at 80 feet of water, the wall reaches up above me and down below me as far as the eye can see. And believe you me, this was the clearest water I've ever dived, and it was pleasantly eerie to be flying along above a vast dark blue nothingness with a vast dark blue nothingness behind me. I really felt I could see the wildlife from a much better angle. I'm so used to just flying over everything, but this is more like looking at a forever-reaching fish tank from the side. Remarkable. The coral was the healthiest and most brightly colored that I've ever seen. I saw more or less the same kinds of fish as before, but it was the coral and sponges that stole the show.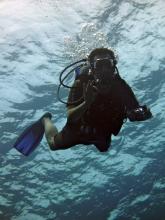 I got low on air long before anyone else in our group, so I had to take my buddy to the surface. I felt bad cutting his dive short. My buddy's name is also Shawn and he also had a camera so we shot some photos of each other and exchanged email addresses so we could share.
After everybody came back onboard, we picked up the snorkelers from closer to the atoll, and chilled out for our surface interval. They served stewed chicken, coleslaw, and rice and beans for lunch. And hot sauce. This was easily the best chicken we've had here on Belize, and I daresay it rivals most of the fish as well. it was just a cut up chicken, and stewed in mild spices, peppers, and maybe some oil. I gotta try making this sometime. Seems simple enough. The biggest problem that I see is adding all that chile powder without making it too spicy. Hmmmm. [Update: I did end up making it based on this great recipe. It's not chile powder that gives it the flavor, it's Red Recado, which is a paste made from ground Achiote.]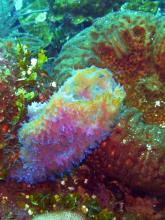 Our surface interval was about an hour and twenty minutes, and we were back in the water for the second dive at a place called Sandy _________??. This was kinda half-way between a wall dive and a flyover. The reef gently sloped downward and we flew across it at 60 feet. I could easily see the sandy bottom below the reef. This dive was more about the fish than the coral. Oh, the coral and sponges were beautiful as well, but I saw some new creatures on this dive. There was a snail called a flamingo tongue, and a sea cucumber, there was a trench we could swim through, and there were large schools of fish that would swim through us like we were only slightly in their way.
The highlight of the dive for me, and probably the highlight of all my dives on this trip was a gigantic spotted eagle ray that flew by. It was beautiful and oh so graceful. It wingspan was much wider than I can stretch my arms, and it's length from head to tip of the tail was longer than I am tall. Absolutely spectacular. I tried to chase it to keep it in sight, but it just kept floating along. There was no way. I tried to alert the other divers, but only the dive master saw it too.
After that, I considered my dive wishes fulfilled, but there was one more treat: a little green sea turtle, no bigger than my torso. He was just happily swimming along the reef munching corals and sponges. Too cool.
The only major bummer about my last dive in paradise was that my camera ran out of batteries RIGHT as I was chasing down the eagle ray. I got no pictures of it, nor the turtle. Well, that'll learn me. From now on, I will always swap in a new battery before the second dive; even if it looks like I have well over half my battery power left.
On the ride back to the island, I noticed that everybody was dead tired, but I was bouncing off the walls. I felt better than I had in days. We had great dives at a world-class reef, we were cruising on the best boat on the island, and I was just jazzed. Oh yeah, the dive shop was kind enough to provide me tanks of nitrox (32% O2) for my dives. I had forgotten how much I love diving with nitrox.